Sale!
Stationary Bike for Gym, Home with Quiet Flywheel (White)
Flywheel combined with the belt drive mechanism allows for smooth and quite workouts. The seat can be adjusted for height and proximity to handlebars with a simple twist of a knob.
Description
IRIS Fitness 12 Kgs Flywheel Stationary Bike, Spin Bike with Quiet Flywheel and Comfortable Seat Cushion for Gym Home Cardio Workout Training Bikes (White)
 【STATIONARY EXERCISE BIKE with HEAVY FLYWHEEL】 The heavy-duty steel frame construction gives this exercise bike a rock solid build that will guarantee sturdy and stable cycling while moving ride after ride. The excellent 12 KG flywheel weight can provide more resistance for training to help you burn calories more efficiently.

🚴 【ADJUSTABLE RESISTANCE SYSTEM】 Firstly the spin bike is equip with a tension knob to adjust the resistance with a convenient twist. Secondly this resistance system can give you the experience of a realistic, Thirdly real-road feeling and make your workout more intense by cycling at a high resistance.

🚴 【CUSTOMIZATION & WATER BOTTLE HOLDER】 Adjust the seat of the exercise bike vertically and horizontally. Handlebars move up and down to adapt to any user type. No-slip pedals are designed to keep your feet in place which are built with adjustable toe cages. Water bottle holder is built into the frame for easy access to make you stay hydrated during long cardio workouts.

🚴 【IDEAL GYM MACHINE】 The workout bike brings you effective training for 5 major parts: abdomen, buttocks, arms, thighs and waist. Firstly this spinning bike is a good helper for exercisers. With 1-2 hours of exercise every day, you can easily burn calories and own a perfect body.

🚴 【BODY SHAPES】 The weight loss of the spinning bike during fat burning is very obvious. 400 minutes drive can consume 400-500 calories. Long-term training can shape perfect legs and hips and help with losing weight. Strengthen your body, improve the heart and lung function.
Stationary Bike:-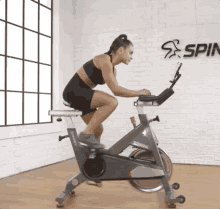 IRIS Fitness Stationary Bike 12 kgs. Firstly flywheel combined with the belt drive mechanism allows for smooth and quite workouts Adjustable resistance with press down breaking system Heavy duty steel frame with bottle holder; maximum user weight 100 kgs Adjustable handlebars and fully adjustable seat with high density padding Adjustable Seat and Handlebar:The seat can be adjusted for height and proximity to handlebars! With a simple twist of a knob, you can move back and forth so your workout can remain comfortable when riding for long periods of time.
"Heavy-Duty Flywheel Operation The heavier the flywheel, Firstly the smoother the ride! Creating more momentum for longer periods of time keeps your workout going the distance like you are really riding outdoors! No more jerky, Secondly out of control movements, regardless of speed or resistance level! Comfortable and Adjustable seat. Thirdly foot Cage Pedals- Proper foot placement is essential to any biking workout! Ensure your feet are securely in the right place, Avoid foot slippage at increased levels of speed and intensity! Stay Hydrated and Healthy- The convenient bottle holder keeps your favorite refreshing beverage at arm's length! No need to stop to sip. ..simply reach down and grab.
Proper hydration will ensure your health and workout performance stay at optimum levels! Features: Durable frame. Ultra-comfortable PU sport saddle. Positive-locking seat post adjustment Top-down, easy-to-use resistance system." Product information: Co-lour: Black Load capacity: 100 kg. Product size: 110 x 55 x 100 cm. Flywheel: 12 kg (two-way inertia) Transmission method: Belt. Resistance adjustment: Rotation resistance adjustment. Stand: Thickened stand in fitness quality. Handrail: Foam I PAD holder: One-piece PP holder Foot pedal: Adjustable non-slip pedal. Movable pulley: Easy to move bicycle belt pulley. Note: The assembly instructions of the spin bike are in Chinese language ,so buy if you are comfortable.